What is Safe at School?
At Dehong Education we place protection at the heart of everything we do. We call our approach to protecting students SAFE at SCHOOL.
As International Chinese schools, with a mix of Chinese and international teachers, we wanted to ensure that we place Chinese culture and law at the heart of our work to protect every Dehong student, whilst ensuring that we draw upon best practice from around the world.
We did this by bringing together Chinese and International colleagues to work on the development of this framework, continually checking with Chinese parents, staff and students as to the effectiveness of what we were developing – a framework to ensure that every member of our Dehong community understands their role in keeping our students safe from any physical or emotional harm.
The first thing we challenged was the word that is often used internationally - 'Safeguarding' - there is no direct translation in Chinese! Why use a word that would create a barrier to people we were trying to reach; a word that they would have to think about every time they heard it? So, the term Safe at School was agreed, together with a complete framework based upon the United Nations Convention of the Rights of the Child (ratified by China in 1994) and the 2012 Law of the PRC on the Protection of Minors. At the core of our Safe at School framework are 7 basic principles which every member of the Dehong community must adhere to.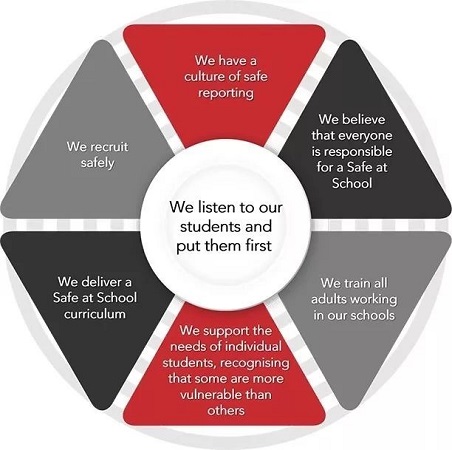 Dehong Safe at School 7 basic principles
These principles form the basis of the Framework and all associated polices. One of the key documents is the Dehong Safe at School Code of Conduct which is signed by all adults working or volunteering with students in our schools.
How do we embed our Dehong Safe at School approach?
We created a set of 8 Safe at School Core Competencies that all staff working in the school have to attain.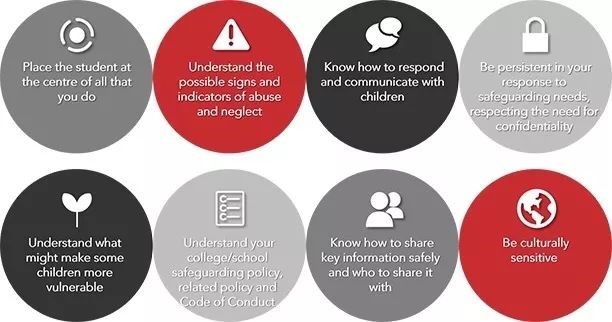 8 Safe at School Core Competencies
We were acutely aware that some people in our community would not be able to meet the competencies, probably because they might not have the necessary experience or knowledge. For this reason, all the training is planned around the competencies for Principals and Board Members to Guards and Ayis! Everyone now has the opportunity to engage in very active learning that encourages dialogue and reflection. We always try to create an atmosphere where people feel safe to ask questions and where real-life scenarios can be discussed.
In August 2019 all the teaching staff from across Dehong schools came together in Xi'an and engaged in a whole day of Safe at School learning. Learning also took place with all members of the community. This was very well received but we decided that we had to find an effective way to continually reach out to all member of our community; leaders, board members, teachers, our vast number of support staff, parents and the students themselves. We wanted the framework to be a living document that people would really become familiar with and refer to all the time. Of course, we turned to the most popular form of social media in China - WeChat!
At our professional learning meeting in Xi'an in August 2019 the Dehong Safe at School mini programme was launched and there were real expressions of delight as people got their phones out to access it!
The Dehong Safe at School Mini programme gives people the opportunity to access with ease different parts of the Framework, revisit materials, engage in ongoing knowledge check activities and read the latest news and research about protecting children. A Dehong WeChat Safe at School community has been created.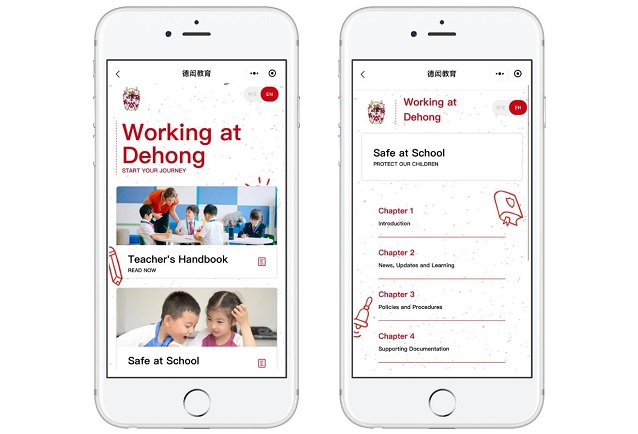 Dehong Safe at School Mini programme
How do we involve our students in Safe at School?
Dehong believes in respecting children and listening to their views. The philosophy of Students Come First guides the behaviour of all professionals in our schools. Some aspects of Safe at School are sensitive, for example our students are encouraged to say no if they feel unsafe or and taught how to ensure that certain parts of their bodies are respected by adults and peers.
We have already developed a programme for all students entitled Keeping Me Safe at School. The 'Banzhuren' have been specifically trained to lead Circle Solution Sessions based around the following themes:

4 themes in Circle Solution Sessions
Circle Solutions are quite a different way of learning for both the Banzhuren and the students and their international colleagues are working closely with them to support this new concept.
The principles for Circle Solution are that students make choices, take decisions, act upon them and build a positive emotional climate for learning. Students can stay silent if they do not feel confident or ready to speak. Students feel safer when they discuss issues and not incidents.
Activities are in pairs, groups or the whole Circle. The teachers leading the Circle Solutions time will focus on strengths and solutions. Circles promote positive feelings, including laughter. The teachers will make it clear that is expected that everyone will work with everyone else. No one is left out and everybody is encouraged (without pressure) to join in. Every person is important to the group and encouraged to listen to each other and the teacher's role is to make sure everyone's voice is heard equally. Teachers are expected to be completely involved in all activities and facilitate rather than lead or be centre stage. A very new way of learning for some!
How will we continue the Dehong Safe at School journey?
The most important thing for the Safe at School Team is to continue to add to the WeChat Mini programme so that Safe at School is always at the forefront of Dehong practice. Plans for the next twelve months are a WeChat platform for parents, an interactive Keeping Myself Safe programme for students and a podcast channel to be available to anyone who would like to access this, hopefully other schools.
Finally, in October 2020 we will be holding a two-day Safe at School Conference in Xi'an, opening this up to other Chinese and bilingual Schools in the hope that we can continue to raise the profile of Child Protection in a society where much is already happening. Key child protection professionals will present along with people such as Sue Roffey, psychologist, academic, author, and speaker who promotes the philosophy of growing schools with wellbeing at their heart and Tim Gerrish OBE who is well respected in the international world of Child Protection. Participants will have the opportunity to network, listen to inspirational speakers and attend workshops of their choice on a range of topics that will help them to become part of the Safe at School community.