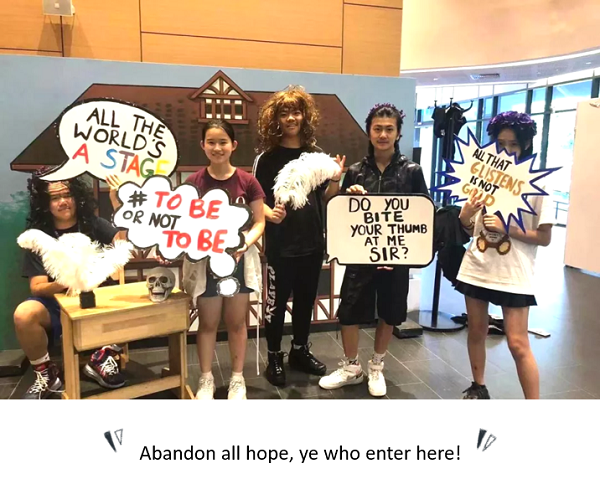 On 25 October, 21 of Dehong International Chinese School students presented an alternative approach to Shakespeare, a 'mash-up' of Renaissance texts including Shakespeare's plays, in the Dulwich Shakespeare Festival, Singapore.
The adaption follows Romeo and Juliet through the circle of Hell to spy on the damnation of Shakespearean characters as they suffer for their earthly sins of lust, gluttony, violence and treachery. In the opening scene the three witches from Macbeth promise to unleash magic and mayhem on this night of madness. Juliet and Romeo whose suicide was witnessed by Friar, led the way through Hell, the atmosphere was suitably uneasy; the darkness, the eerie red glow and the hellish backdrop made for some disquieting moments.

As the gatekeeper Puck and other actors progressed deeper into Hell, each delivered a series of conversations displaying raw emotion with great talent, frequently in the form of monologue. The wise-cracking disembodied head of Macbeth, the bitter Lady Macbeth and the scheming Iago were also given a second chance to redeem themselves. These tragic Shakespearean characters ventured through the circles of Hell with help from their guide, Captain Fluellen and Henry V gathering other sinners on their way Porter, Emilia, Petruchio and Katherina.
They are finally met by Shakespeare, 'I know you, I know you too!', he exclaims as he recognizes each of the characters he has created. The cast, are still and silent as judgement is passed with Shakespeare's closing words, 'I made you!'…. but what is their fate?

Each actor is worth noting, the rhythmic timing of the casts choral chant is impeccable, and their acting skills and instinctive ability to create drama are undeniable.
The cast brought these 400-year-old words to roaring life with strong commitment and high energy, resulting in a production that was a delight to watch.

Dehong school always believes in holistic education, encouraging students to discover their own talents in various areas including music, art, sports and science, while pursuing academic performance. That's why Dehong develops a variety of Qidi courses and extracurricular clubs. At the same time, Dehong also provides opportunities for students to walk out of the classroom and learn from other sister schools. Surely, be a part of this festival is one of the important practices.