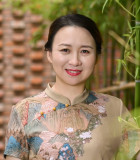 Ms Caroline Xu
Executive Principal, Dehong Shanghai
Principal Xu is a dedicated international educator with more than 20 years of experience in subject teaching, academic research and school management. She graduated from Yangzhou University with a Bachelor's Degree in Chinese Language and Literature Education and a Master's Degree in Classical Literature. She has achieved the International Leadership and Management (ILMP) Certificate for senior leaders from Fieldwork Education and is now continuing her doctoral studies in Educational Leadership and Policy at the Ontario Institute for Studies in Education of the University of Toronto.
Principal Xu has worked in renowned international bilingual schools in both Shanghai and Hong Kong. Her career began in Shanghai Jincai High School in 1999 firstly as a Chinese and Class Teacher, then she supported the establishment of the school's International Division responsible for Chinese Course setup, teaching management and led the school's IB MYP authorisation process. In 2006, she joined Independent Schools Foundation Academy (ISF), a famous private bilingual school in Hong Kong. Apart from her Chinese teaching and management responsibilities, as well as being IB MYP coordinator, she began to serve as Assistant Principal of Middle School and oversaw school management. Principal Xu returned to Shanghai, after 10 years in Hong Kong, with an extensive breadth of academic and school leadership experience and assumed the post of Director of Curriculum Development, Deputy Head (Academics), Middle School Principal and Head of Hongqiao campus of Shanghai YK Pao School. At YK Pao School she led the implementation of education policy, CIS/WASC accreditation, development of teaching and learning practice, faculty professional learning, resource management and parent-school communication.
In addition to her school leadership experience, Principal Xu is also a qualified IB Coordinator, Programme Leader, Evaluation Leader, MYP School Consultant, School Visit Team (authorisation and evaluation) Leader and Workshop Leader. She is also a CIS (Council of International Schools) School Accreditation Evaluator and a trained WASC (Western Association of Schools and Colleges) evaluator.
"I hope that with our help, students can excel academically and lead a healthy, rich and balanced life," a statement that constantly inspires and drives her to realise the ideals and mission of leading a top bilingual school.
---