It was another thrilling annual trip to The Dulwich Festival of Music last week. The students of Dehong working to their best in the field of music from a wide range of different styles and genres. The students made an enormous amount of progress not only as learners but applied the core values that the school has embedded in their attitude when they worked. The theme of festival was 'Broadway'. This musical style allowed the students to explore and develop their skills and talents working with other learners making music and dazzled the audience by doing so.
Every year, the students of Dulwich communicate through the network and work tirelessly to create a stunning performance and the themes change every year. It changes every year from school to school and there is an enormous amount of preparation for it so that our students reach their full potential.

The performance practice disciplines are into four groups: Rock Band, Orchestra, Big Band and Choir. The students select what they would like to work on and we allocate spaces for them to work with other students from the network of Dulwich Schools. Following on from this they are given material from the theme. Over three days they practice hard and perform on the Saturday night in front of an excited audience of parents, teachers and members of the community.
The students at Dehong also had the opportunity to watch the Dulwich Young Musician of the Year competition. This event in itself was an excellent example of how the aspiring older musicians gave our learners support, encouragement and reinforcement on their learning journey.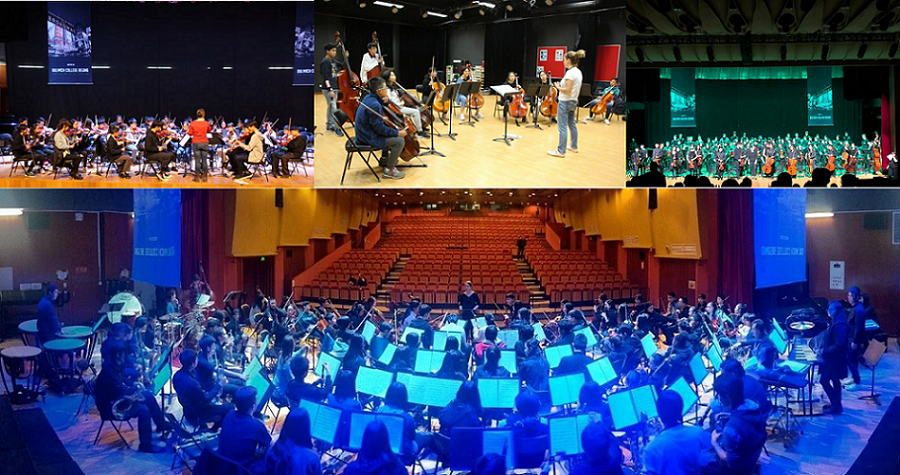 As always, the different members of staff drop in to see each group rehearse and offer their advice and coaching to other groups as well as their own. The students do the same. Older musicians and singers who rehearse drop in and coach the younger learners. That galvanizes their ability as teachers themselves.
It was a fast paced, thoroughly rewarding event where all members (students and staff) got so much experience and applied their knowledge to develop skills, flair and patience with other members of the network of schools that we worked with. We are very much looking forward to the next event!

Students' Review on DFM
Kenneth Q. G8C2
I feel extremely proud and excited when attending the Dulwich Festival of music last week. During the festival, I had the valuable chance to work together with lots of peers from Dulwich network and was deeply impressed by the music culture and the strong atmosphere of close cooperation and communication. My favorite performance part is Rock Band, because it really let me feel the fun of playing music in a team. In this short three days, we rehearsed for about 18 hours. We encouraged and supported each other, even though at the beginning I even didn't know the name of our team members. A fully-scheduled and tiring journey but it was pretty much rewarding.
Sam F. C3G7
This is my second time to attend the DFM. I joined the big band and play as an alto saxophone player. I enjoyed my time in the DFM, while I overcame multiple difficulties and learned a lot in this festival.
The first thing that deeply impressed me is teamwork. Without my friends in the band, I need to learn how to cooperate with other peers to work out the wonderful music. Astonishingly, we created 3 bands (including big band, orchestra and rock band) and a choir out of eight schools in Asia in three days. Thanks to our teachers from all over the campuses, we created an astonishing show on Saturday night.
And the second thing that is of great importance is to put effort on anything and never give up. On Friday afternoon (the day before performing, after the finale practice), I got my mouth injured but I kept working on alto saxophone till I can't bear the pain. If you didn't do your best, how you would know if you can do it or not. Nothing is impossible if you put your effort in.
Flora W. G7C3
Before I went on the DFM trip, I knew nothing about Broadway. Can't believe we learnt so many songs just in three days. The greatest part of this trip was the Finale in the last night. I enjoyed singing with everyone on the stage. Music is such an amazing gift that makes our life colorful and make us feel relaxed.
This is my second time to attend the DFM. I joined the big band and play as an alto saxophone player. I enjoyed my time in the DFM, while I overcame multiple difficulties and learned a lot in this festival.